Software Highlights
---
Streamline kitchen and dining area communication to enhance the customer's experience.
Customer Order Tracking
Staff Scheduling
Labor Management
Equipment Maintenance Scheduling
Complete Inventory Control
Supply Chain Visibility
Enhance Collaboration & Communication
Table Reservations & Seating Management
Streamline Compliance & Reporting
And More
---
Learn More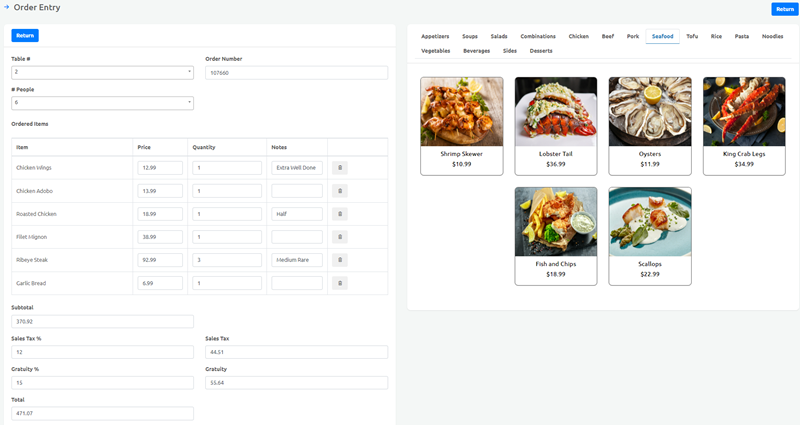 Industry Highlighted Software Solutions
---
Order Management
Manage customer orders, reduce errors, and improve order accuracy.
Inventory Management
Track inventory levels in real-time, automate reorders of stock, and minimize waste.
Seating & Space Management
Allow your customers to book tables online, optimize table turnover, and ensure efficient use of available space.
Staff Scheduling & Labor Management
Optimize employee schedules, track labor hours, and manage labor costs more effectively.
Customer Relationship Management
Manage customer profiles and loyalty programs. Personalize customer interactions to enhance the overall dining experience.
Point-of-Sale
Take customer orders on mobile devices and streamline communication between the kitchen and the dining area.
Menu Management
Create and manage your menu items and ensure up-to-date pricing is presented to customers.
Supply Chain Management
Track supplier delivery and costs to ensure items are received on time and meet quality requirements.
Compliance Tasks & Reporting
Automate compliance tasks, track food safety measures, and generate reports for regulatory and quality purposes.
Order Processing
Streamline the ordering process and track dining items as they are delivered to the customer's table.
Equipment Maintenance
Ensure kitchen equipment is regularly maintained and up-to-date with the latest compliance and requirements.
More Solutions
Over 1000+ software solutions to help you optimize your operation.