Software Highlights
---
Enhance your oil and gas accounting procedures and streamline royalty and joint interest billing processes.
Streamline Royalty & JIB Distribution
Easy-to-Use Oil & Gas Accounting System
Enhance Owner Relations
Optimize the Mineral Allocation Process
Expedite the Royalty and JIB Procedures
Manage Unique Lease Terms & Contracts
Streamline Owner & Investor Communication
Go Paperless with Single-Click Statements
Gain Insights on Key Performance Indicators
And More
---
Learn More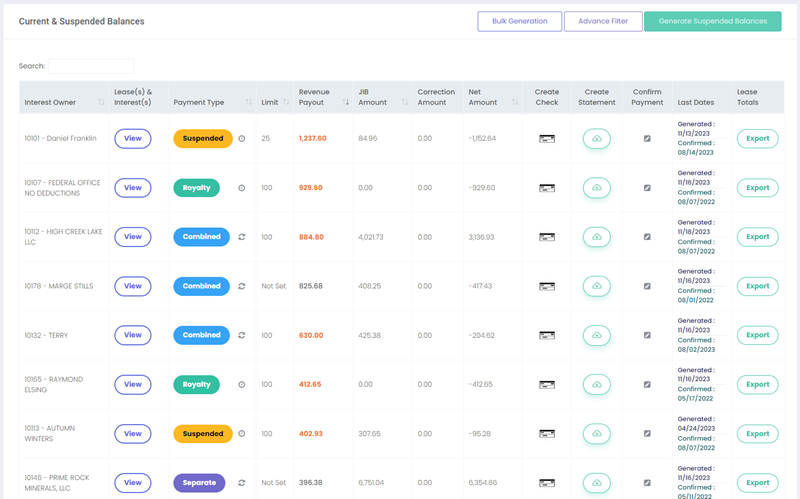 Industry Highlighted Software Solutions
---
Oil & Gas Production Management
Gain real-time visibility into production levels of oil and gas wells and pipelines.
Oil & Gas Accounting
Streamline accounting procedures and automatically allocate royalty and JIB amounts to owners.
Interest Partner Management
Maintain and manage interest partners ensuring partner information is up-to-date.
Royalty Management
Streamline royalty checks without worrying about manual calculations.
Joint Interest Billing (JIB)
Streamline revenue and joint interest billings to working interest partners.
Division of Interest & Division Orders
Create division of interest decks and division orders to gain visibility and confirm the ownership of your assets.
Title Management
Easily manage interest and title transfers from one party to another.
Tax Tracking
Automatically track severance taxes and other regulatory taxes.
1099 Preparation
Generate 1099 forms for royalty owners, working interest partners, and vendors with a single click.
Oil Runs & Saltwater Disposal
Track and manage oil tickets and saltwater disposal services all in one platform.
Document Management
Handle the organization, storage, and accessibility of various documentation and requirements to ensure compliance.
More Solutions
Over 1000+ software solutions to help you optimize your operation.