Software Highlights
---
HIPAA-compliant software to help streamline your practice.
HIPAA-Compliant Practice Management Tools
Streamline the Billing Process
Easily Utilize CPT, ICD, & Other Medical Codes for Your Practice
Enhance Patient Services & Communication
Stay Compliant with Regulatory Changes
Securely Store & Attach Documents
Effortlessly Schedule Provider Services
Streamline the Auditing Processes
Receive & Provide Notifications for Patient Appointments
And More
---
Learn More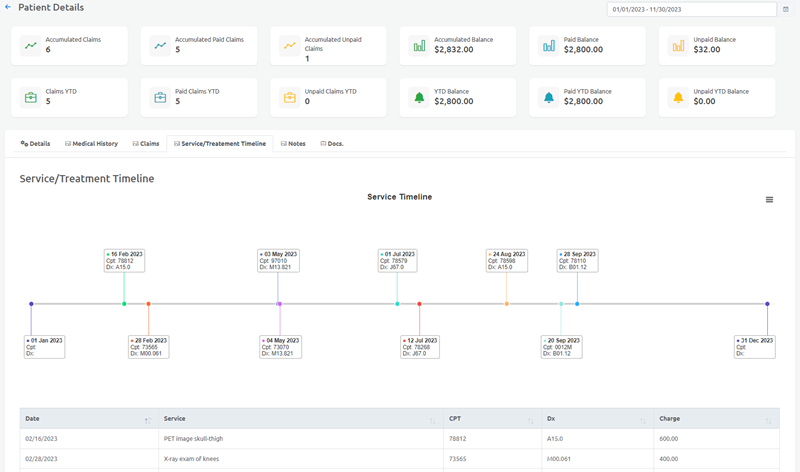 Industry Highlighted Software Solutions
---
Electronic Health Record
Manage health data, integrate, and share among healthcare professionals, improving collaboration and patient care.
Electronic Medical Record
Manage and maintain patient data and ensure custom patient care is provided.
Medical Billing
Generate accurate and detailed invoices for services, including procedures, medications, and other billable items.
Insurance Verification
Verify patient insurance coverage to ensure accurate billing and claims submission.
Document Management
Securely store, organize, and retrieve documents easily, improve efficiency, and reduce the risk of document loss.
Coding Assistance
Streamline assigning accurate Current Procedural Terminology (CPT) and International Classification of Diseases (ICD) codes to ensure proper billing and reimbursement.
Claims Management
Track the status of submitted claims in real-time to identify and address any issues promptly.
Compliance & Regulations
Handle patient data and stay up-to-date with changes in healthcare billing regulations.
Reporting & Analytics
Generate reports, and monitor accounts receivable aging to manage outstanding balances and prioritize follow-up.
Patient Portal
Patients can access their health information, schedule appointments, receive reminders, and actively participate in managing their health.
Patient Communication
Enhance patient communication, ensuring timely updates, feedback, and collaboration among service providers and patients.
More Solutions
Over 1000+ software solutions to help you optimize your operation.